Bumblebee got a fishin' pole for her birthday. (She never says the 'g' sound in words ending in 'ing', it's really cute in a country-bumpkin sort of way.)
All week, she's been asking when Daddy was going to get home so he could take her fishin'. So on Sunday, we took the kids out to a pond to catch some bluegills.
The Husband got the worm on Bumblebee's Disney Princesses fishin' pole and cast it out. Here's a shot of that: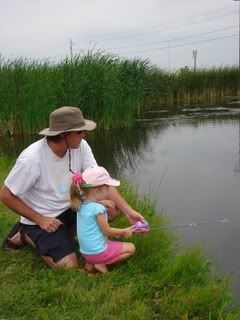 Within thirty seconds, she'd caught her first fish: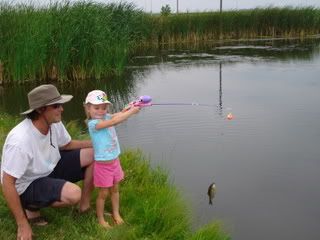 Bumblebee was standing by the water watching her bobber when she said, "See Daddy? I can do
patience!"
He's always telling her that she has to be patient and wait for the fish, so she was pretty pleased with herself for standing still. Eventually, though, she got tired and decided to lay down: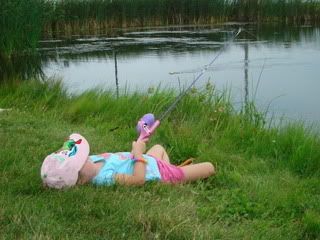 Soon it was Hollywood's turn to catch some fish. That's my girl - she squealed when the fish flopped in her hand:
The Boy was starting to get irritated. He didn't like the fact that his sisters caught before he did. He had lots of bites (or 'nibbles' as Bumblebee called them), but when he went to set the hook, the fish got away.
Finally, he got to reel in a fish that bit on TH's line. Here he is with his own fish:
And, he's a trooper - not afraid to take the fish off the hook. Bleck: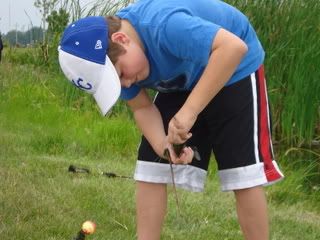 It was a fun day - and we enjoyed having The Husband home for the weekend.