Today is Bumblebee's fourth birthday. I can't believe my baby is four. It's so cliche to say that it seems like yesterday that she was born, but it really does.
Yesterday we were having breakfast together. In between bites of raisin toast, this was our conversation:
I said, "Bumblebee, this is the last day that you'll ever be three years old. Can you believe it?"
"I'm pretty much four already, Mom." Bumblebee said matter-of-factly.
"But it's not official until tomorrow."
Bumblebee thought for a while. I suspected that she might ask me what 'official' means. Instead, she asked, "Are you sad that I'm turning four?"
"No." I said. "I'm happy that you're growing up."
She chewed her toast for a bit and then said, "But won't you miss me when I'm a grownup and I move away?"
"Yes, I will miss you then. But that's a long way from now."
More chewing. More thinking. Then, "Momma, I'll call you EVERY DAY when I grow up."
My heart melted. "Aw, sweetie, that's great. I'll love that." I said.
She was quiet for a while longer, thinking some more. I could almost see the wheels turning in her brain. "Momma?"
"Yeah, sweetie?"
"What's your phone number?"
What a cutie pie. And she's FOUR now. We had a great party for her Saturday night. The Husband has to go out of town today, so I'm taking her to the zoo and out for dinner tonight. She's getting a fishing pole, a Barbie convertible, and whatever else I see at my Target run today. (Yeah, I'm a super bad procrastinator since I haven't actually bought her gifts yet...)
Happy Birthday, my littlest sweetie. Mommy Loves You.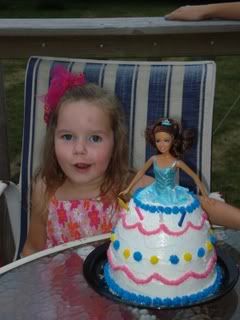 ******
Last night Hollywood and I went to see Keith Urban in concert. I was a complete moron and forgot my camera, which I am seriously cursing myself for, because a.) we had GREAT seats and b.) Keith Urban is HOT and I wish I'd have captured his sweaty hair and all of that. Luckily, the
Des Moines Register
caught a lovely shot of him, and here it is for your viewing pleasure: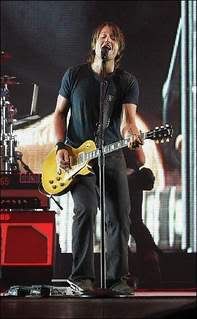 The concert was so great. The Wreckers opened the concert and since I love the Wreckers, I enjoyed the show. But when Keith and his band came on, Oh My Gosh. I felt like a little teenager, I actually felt a swooning sensation.
Aside from how incredibly hot he is, the man has a fantastic voice, and
he plays the guitar amazingly
.
I'm serious. I knew that I loved his songs, and I love the guitar arrangements in the songs, but I had no idea that he was
that
talented! He did some guitar solos, alone and with his band mates that were just phenomenal. Hollywood plays the guitar and is going to buy an electric guitar with the money she earned from working at her grandpa's. She was in awe by his playing too.
I won these tickets at work, which is awesome because they were free and I wouldn't have spent the money to go to the concert otherwise (though now that I know how great of a show he puts on, I'll spend money in the future, definitely.) They were great seats, the front row of the side in a clubhouse section, just about four feet off the floor - about 1/3 of the way from the stage. Hard to describe, I guess, but trust me - they were great seats. The people sitting around me were from the department I work for, and maybe it was because they got the tickets for free and weren't real fans, or maybe it was because they were old, boring people, I don't know... But they just weren't into it that much, and they even SAT DOWN through half of the concert. I didn't care that there were people behind me sitting - the entire arena was standing and dancing, I wasn't about to sit down. Even if I do have to see these people at the office. So Hollywood and I stood and danced and sang our fool heads off. The crew was walking around video taping the crowds and once they zoomed in on us for about a full minute. Thank God it was on a song that I know every word to - it was pretty cool. I have no idea what happens to that footage, but it made us feel just a little special to have them focus in on us for such a long time.
He dedicated his second to last song to Nicole. He thanked everyone for sticking with him for the past several months. He was charming, had excellent stage presence, and was really a pleasure to watch.
Oh, and I was thinking that I got old all of a sudden, when I noticed that the sway of lighters to a ballad was replaced by cell phones. When did that happen? Later in the show, towards the end, Keith had the crowd do a cell phone wave. They turned out the lights and we got our phones out and did a cell phone wave. It looked awesome.
It was a great concert and I'm so glad Hollywood and I got to go. But it's so funny that I have that feeling I got back at my favorite concert ever - the Bon Jovi concert in 1989 (New Jersey tour.) For a second it felt like he was singing just to me. (Swoon.) Am I a giddy little schoolgirl or what? But he even said this - "If you know the words to the songs - sing along. It's just you and me tonight!" I'm still reveling in the memory of the evening. Hollywood and I spent the ride home talking about how great it was. What a great time.