Wow, it's been a while since I posted. And you know what that means...
Ramble-o-rama!!!

Things have been crazy, as usual. With Hollywood and The Husband out of town, you'd think it might be more relaxed, but no. Same chaos. Fewer people.

Here's a picture of Hollywood getting her first paycheck from her grandpa: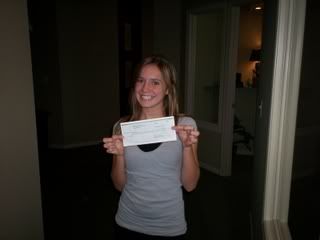 She looks pretty excited, doesn't she? Man, I sure miss her.

Last night Bumblebee got a nosebleed. A REALLY bad one. The Boy and Bumblebee have them occasionally, and I get them too. I used to get really bad ones as a kid. This was the first time I've experienced a potential ER visit nosebleed with one of my kids. Her nose started bleeding right as I was putting her to bed at about 9:30, and it didn't stop until close to 11 p.m. I was looking at the clock, telling myself that if it's still bleeding at 11, we're piling into the van and going to the ER. Thankfully, the bleeding stopped before my 11 p.m. cutoff.
But it was bad. And scary. And how in the world does a little 29 pound peanut like her have so much blood?! She threw up blood and clots three times. (Gross, I know. Geez. My blog is all about bodily excretions lately. I'm so sorry, readers!) The problem wasn't the clotting - it was clotting like it was supposed to, but the clots kept dislodging (from her crying, barfing, and one unexpected and calamitous
sneeze) and then the gush would start all over again. Poor baby. She kept crying because she was tired and wanted to go to sleep, but I couldn't lay her down or the blood would go down her throat and she'd just puke it back up again. I wanted to cry with her, because I really was starting to get freaked out. But I didn't. Our bathroom looked like a murder scene when it was done, both of our pajamas were the color of a nice merlot, and she was as white as a ghost, except for her bloodshot eyes.
This morning, I debated staying home with her. I really wanted to because I was nervous about her, but weirdly enough she got up without me asking her to, and was happy, cheerful, and looked healthy. The sickly pallor and bloodshot eyes of the night before were gone. So I took her into daycare, told her babysitter what had happened, with strict instructions to call me if she gets another nosebleed. But I'm going to sit at my desk and worry about her all day long.
So, on to other news. My new step-mom is having surgery today. I hope everything goes well! I'm going to bring over some lasagna tomorrow night for her and dad to enjoy. MJ and dad took The Boy to a baseball game on Monday night. He had a BLAST. And my dad let him pick up empty pop/beer glasses to take home. Just like he used to let us do as kids. Man, we'd go through the empty stands and pick up dozens of those. Then we'd get home, run them through the dishwasher, and have a bunch of plastic glasses for FREE in our house. It kind of skeeves my adult mind out to think about who drank out of those glasses before we washed them. But as a kid, it was just what we did.
Hollywood had a little incident yesterday. She put a rather large door ding on a big red truck while out to lunch with her grandpa. My FIL made her write a note and attach a business card to the truck, instructing them to call about the door ding. She's been answering the phones at grandpa's office, so she was quite worried about the guy calling. Here's a snippet of what her email to me said:
"
I'm just afraid for when that guy calls… I'm the one who's going to have to answer it… I hope he doesn't sound like those big Giant guys with all the tattoos and scars and no hair… That would make me freak… I'm hoping that he's like Bob from the Enzyme commercials – all happy and smiles and two thumbs up! *sigh*"
She's funny. She meant Enzyte. Those 'male enhancement' commercials? They've got this really geeky, happy looking guy in them. I am not sure if those commercials are national, so I had to explain that to my non-Iowa readers. (I just looked up Enzyte and Bob on You-Tube to see if I could attach a link to the commercial, but there were so many spoofs of the commercial, I have to think that it's a National commercial campaign.) Anyway, Hollywood's sense of humor cracks me up. My friend
Webgal
says she's just like me, which is a nice compliment.
I don't think I blogged about my brother-in-law's wedding. It was on 7/7/07... and boy was it a blast! Seriously one of the most rocking weddings I've ever been too. They had the ceremony outdoors amidst the Iowa corn, under a huge tent. The reception was awesome - the DJ had a Karaoke machine, and let me tell you... It doesn't get any cuter than four or five little girls dressed in their wedding finery singing "Fergilicious". Or an entire family singing "My Ding-a-Ling" to the raucous approval of the audience. Good stuff. TH loves Karaoke and impressed us all with his favorite Karaoke song, David Allan Coe's "You Never Even Call Me By My Name". Funny song, and he does a great rendition of it. Anyway, thanks to J and N for a great time at their wedding. Congratulations to them both!
The Boy is spending the day today with his cousins. My SIL graciously offered to let him hang with her today and tomorrow. He's been pretty bored around the house with Hollywood gone. He's getting all pumped up for the release of the last Harry Potter book. It's on sale at midnight on Saturday. I might have to make an early morning run to get the book for him.
Well, that'll do it for another rambling post. Happy Wednesday!!