I am a great big ball of nerves right now. My poor friend
webgal
just hit the jackpot - she was given the huge honor of listening to me rant about all of the things I'm stressed out about...
Mostly it's the fact that I'm due to take a ten day vacation with my family, and I've been um... how can I put it delicately? Well, I won't put it delicately. I'll just throw it out there and tell it like it is. I've been a total bitch lately. I figure it's about 70% hormonal and 30% personality. As usual, my poor husband takes the brunt of much of this bitchiness.
I need to relax, take a deep breath, do yoga, or something. Although the last time I did yoga, we had just shampooed the carpets and they were still a tiny bit damp, and they smelled like dog pee. How gross is that?! I was supposed to be relaxing with this balasana (child's pose):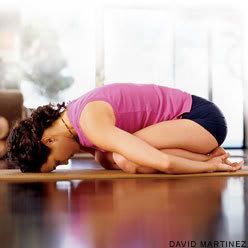 Instead was whiffing dog pee. Not very relaxing. Stupid Dog.
Anyway, I know I'm stressed out at work, and getting things in order so that I can leave on vacation almost negates any benefit of being away from this place. I should be happy that I'm getting away from work for a while. I should be excited to spend the week with my family. And I will be... Once the hormone levels stabilize and I am safely away from the office. But for now, I'm a ball of nerves stressing out about all of the things I need to pack, the fact that I'm going to be locked in a car with my family for fifteen hours straight, the fact that Hollywood and I are supposed to perform at this wedding and we still suck at the song because we haven't practiced enough, the fact that this vacation is going to cost an arm and a leg, and possibly a torso, and so on. The list goes on, but I'm too tired and cranky to write any more stresses.
I've snapped at my husband and my kids the past few days. That's wrong, and I wish I could control it better. I'm trying to reduce the stress in my life by exercising and eating better, but I still have my moments of extreme stress and crabbiness.
I pray that this mood passes before we all get into the van together tomorrow. Because I will likely have to bite my tongue clean off to avoid saying something I shouldn't if I'm still feeling like this.
Does anyone else get these mood swings? I feel like my entire body is clenched in a fist and I just want to explode. It's not a good feeling. Maybe sushi would fix it... Oh, Webgal... how does the shoe store AND sushi sound for lunch? :)