I went to a wedding and saw my grandparents this weekend. Here's a picture of them. At first I was disappointed in the picture. They were dancing, and turned just as the flash went off. But after looking at it for a while, I decided I like the picture. It looks like Grandpa is whispering something to Grandma.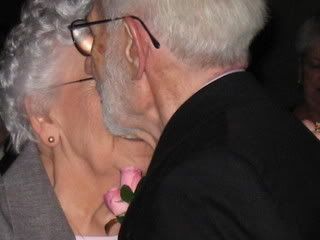 They've been married for 62 years and are in their mid eighties. My grandpa is very thin and frail looking, and I'm told he has days where he's confused and disoriented. He wasn't confused on Saturday, it must have been a good day for him.
They recently moved to a townhome in an independent living community. This has been sad, because we all have so many memories of them in the house they just moved out of. Here are some of my memories of that place:
They planted a tree when each of their children got married. My dad used to point out the one that's 'his.'
Their house has this wonderful, distinct smell. I love when they send me things, because it smells like them.
The basement used to be a huge mess. We were rarely allowed to go down there. When we did, it was amazing. Stacks and stacks of papers, blueprints (Grandpa was an architecht), wooden toys, and all sorts of other things.
They had one of those fifties plastic molded chairs with rockers on it. My brothers and I would rush into the living room to fight over who got to sit in that chair.
Grandma played the organ, and would sometimes let us play the one in the living room.
We played cards a lot. Grandpa taught us all how to play cribbage. We also played a fun game called Hand and Foot or something like that. I remember being a teenager and being allowed to play with the adults. That was a big honor.
Whenever we would come visit, Grandma would buy sugared cereal. This was a big deal for us, because we didn't have sugared cereal at home.
We would usually go somewhere fun, like fishing, or to the lake near their home. Every once in a while we'd go out to eat, which was also a rarity for us.
Grandpa made me a baby doll crib and tiny matching dresser. Bumblebee plays with it every day, it's all painted up and in her room.
Grandpa also made me a wooden jewelry hanger. I has two hearts connected by a rainbow. One heart has 'GRANDPA' written on it and the other heart has my name on it. There are several small metal hooks on the rainbow which are used to hang jewelry. He made that for me on a Valentine's day when I was probably ten or so. I still hang my jewelry on it.
Grandma used to take me shopping for clothes. She loved shopping with us girls. The boys far outnumbered the girls among the cousins, so the girls got some extra special one on one time with Grandma at the mall.
Hollywood got to spend a week with them two summers ago. Grandma took her shopping too, and she also got to explore the basement and enjoy their hospitality. I'm sad that it's not their home anymore, but their new place fits their needs better. There are so many memories, and if I had more time to devote to a proper tribute, I would include them all. My grandparents are wonderful people. I am so blessed to still have them in my life.