Yesterday was a full day. I went shopping to find a dress to wear to all of these weddings I'm going to this summer. My cousin, my dad, and my brother-in-law are all getting married within weeks of each other. I shopped and shopped. Didn't have a lot of luck at Dillard's, and I swear I tried every non-matronly dress on there! Bumblebee was my shopping partner, and she was a great sport. She was cracking me up right and left. As we walked past the shoe department in Dillard's, she broke away from my hand, ran up to a pair of black patent leather pumps with blue, yellow, and pink polka dots and said in a voice that totally sounded like her Grandma Judy, "Oh, these are
gorgeous!"
A 3 year old saying the word 'gorgeous' is funny. She kept up the act by pointing out other shoes and saying "Those are beautiful!" and, "Ooooh, Mommy, these are sooooo cute!" The older women who worked in the shoe department were laughing their heads off. It was funny.
Anyway, back to the dress. I
finally
found one at Ann Taylor. It's very cute. Here's a picture (and obviously that's from the online store, not of me.)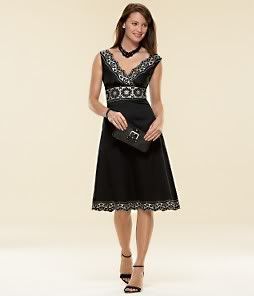 I spent WAY, WAY, WAY more than I should have, but it really is cute.
The Boy had a baseball game last night. The park we were at was a really nice facility. It had a large playground area, and Bumblebee kept asking me if she could play on it. I told her she could if she listened to me during the game. Well, it turns out that she didn't listen to me during the game on several occasions, so as the game was almost over, she begged again to go on the playground. I told her that we weren't going to because she didn't listen. She sat up straight and promised to be good from then on. I explained that it was too late, and that she could play on the playground the next time,
if she listened to Mommy better.
All of this is standard with Bumblebee. She's 3 1/2, so we have a lot of these types of conversations. I'm fairly good at sticking to what I threaten too. So when one of the moms at the game said, "Keep up the good work, Monnik, you have to follow through with those consequences..." At first I was irritated because she sounded so condescending. This particular mom has four kids, ranging from 16 - 9 years in age. She's a stay at home mom, a substitute teacher, and has very well-behaved kids. She tends to be a smug, kind of intimidating woman too, in my opinion. I reflected on it a bit, and decided that she was paying me a compliment instead of handing out unsolicited parenting advice. There are other parents to small children at the ball field who let their kids have full reign over the place, and so I think she was commenting that it was nice to see some parents who didn't.
Today is our town's spring cleanup day, which basically means you can pile up tons of trash and old appliances and the garbage collectors will come pick it up for free. Since we had a game last night, we didn't start putting our pile together until late - well after dark. By the time we were done gathering our trash from the garage, basement, under the deck, closets, etc., we easily had the largest pile in the neighborhood. When we were done, The Husband and I looked at each other, embarrassed. It really was a
huge
pile of junk. We got up this morning, and it was already gone. The trash guys had it picked up before 8 a.m. So we lucked out that our neighbors didn't have to see our giant pile of discarded junk. And, as a huge bonus, I will be able to pull my van into the garage without worrying about hitting a bicycle along the way, because there is actually room for everything now!
That's enough rambling for a Saturday morning. Happy Weekend!!